BikR Kit
Because biking beats lugging. Every. Single. Time.
Behold! This magical tow arm connects your RollR to your bike, and that means two things. One, your bike party just got more awesome. And two, you now don't have to rely on four wheels to haul your stuff back and forth from the park, market or outdoor throw down.
It's also lightweight and easy to use - the bracket installs in minutes. Just pop off the plate and replace it with the tow bracket and you're on your way.
If your RollR already has a BikR Plate installed, you only need a BikR Arm.
Customer Reviews
Write a Review
Ask a Question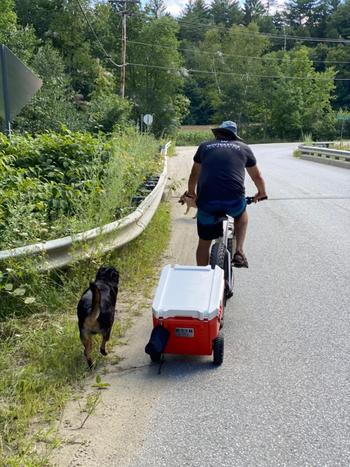 09/04/2020
BikR Kit is fun!!
We hooked up our RovR cooler to fat tire bike using the BikR Kit and took off for our favorite river beach spot. 20 minutes of single track, double track, a cornfield and a rock beach later we were comfortably set up and enjoying our favorite beverages!
Piquette D.

United States
12/10/2020
Ease of Transport
Even on a bike! Works very well and take minutes to install. Everyone wants to know...what cooler it that?...
Charles A.

United States
09/30/2020
Gotchahookedfishtrip.com
Great
Jim M.

United States
08/15/2020
Genius!
Buttery smooth. Connection is tight and fast. So awesome
Douglas M.

United States
07/30/2020
A Solution To a Future Problem
So far, my only experience with the bar has been attaching the plate adapter to the Rovr45 cooler. Since my wife and I recently moved into an Active-Adult community, which has plenty of parks, swimming pools, and nature trails we know that this type of tow assembly will come in handy ... provided that we purchase bicycles to hook it up to.
Gary T.

United States