KeepR
The KeepR is not only a great cocktail caddy or mobile bar, it's the modern-day version of a picnic basket. There is no limit to how you can organize your goodies for that fun outing. Cups, utensils, plates, fruit and even cheese and crackers find a nice home, safe in separate compartments that are easily accessible. The KeepR carries like a pail and rests flat on surface, so that it can be the center of attention and always open for service.
Customer Reviews
Write a Review
Ask a Question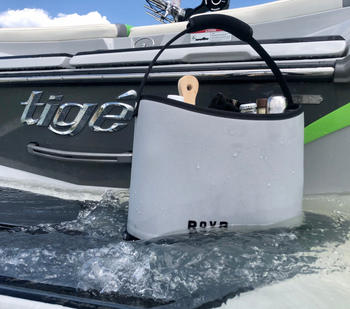 07/29/2020
Perfect mobile bar and picnic caddy
This is an awesome mobile bar and outdoor picnic caddy for so many situations. I take it out on our boat all the time and took it to Utah for a 3 day camping trip in the high desert. I was able to make cocktails for everyone by the fire and it even fell off my chair upside down into the dirt and none of the bottles or fixins fell out. It is alos easy to rinse out with water and keep clean! Thanks for paying attention to folks who love making cocktails with fresh ice in the outdoors!
Tom D.
United States
10/02/2020
Great Product
Really enjoy the function and use. Have a basement bar so it's great to start their and then bring up the next round for dinner
Stephen R.
United States
08/26/2020
Great Product
Why bring a beer cooler when bring liquor. This is an awesome product and the ice holder really works.
Waco Z.
United States
08/11/2020
KeepR is KickN it!!
This is the greatest "Quick Draw McGraw" cooler ever invented!! All your faves are a super quick grab away. Love the built-in, yet removable vacuum sealed ice bin!! I will take this thing everywhere!!
Matthew S.
United States
08/07/2020
Love it
Perfect love the many ways you can use this product! Love how it keeps the ice for two days even in hot Florida weather
Tina C.
United States