SIZING & CAPACITY GUIDE
Certified grizzly bear resistant rotationally molded body and lid with anchor pins for attaching prep station and accessories.

Up to 10 days of ice retention depending on use.

Capacity: Without Deepfreeze dry bin installed: 60 cans and 20lbs. of ice. With Deepfreeze dry bin installed: 40 cans and 10 pounds of ice in main compartment and 4-6 bottles of spirits upright with meats, breads, fruits and vegies in dry compartments.

High density foam insulation.

High performance wheel assembly: 9-inch all-terrain rubber tires with interchangeable tube, aluminum hubs with 2 sealed bearings *

12.5 mm stainless steel axle *

Aluminum pull handle with dual motocross style grips *

Deep Freeze removable Dry Bin with 2 compartments *

Airtight gasket *

Rubber latches *

Fast Flow drain plug with gasket *

Wagon Bin/removable storage bin *

Rubber non-skid feet *

5 year limited warranty**
* Can be removed, replaced or repaired at home to increase the longevity of your RollR under the most extreme conditions.
** Refer to warranty on site for more info.
Customer Reviews
Write a Review
Ask a Question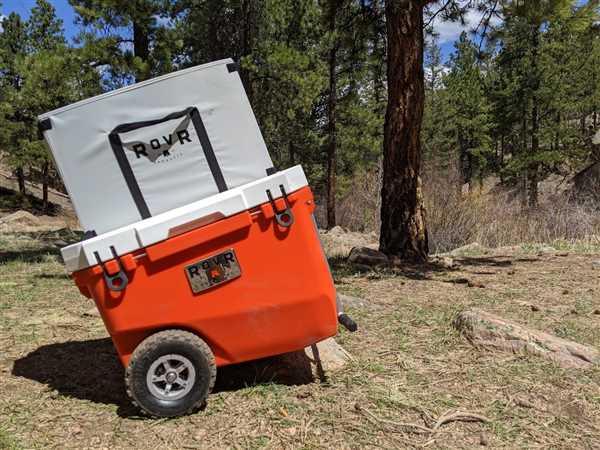 05/11/2020
Off Road Master
Ravines to creek crossings, pavement to rock beds this thing keeps up with you without skipping a beat. The large tires dominate the backcountry and the insulation keeps everything ice cold for datys.
William H.
United States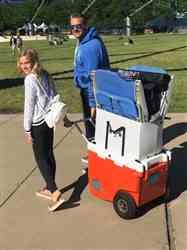 05/16/2019
Awesome Innovation - Super High Quality Premium Cooler
I'm blown away by the innovation that RovR has come out with. Sure it holds ice for days, but it's the innovations inside and outside the box that truly sets RovR apart. The collapsable wagon bin, internal dry storage bin, handle and big wheels are absolute industry game changers. Good job RovR!
04/28/2020
Baseball Cooler
Awesome!! We take it to every baseball/summer outdoor event!!
Jon P.
United States
01/02/2020
RollR69
Our experience was wonderful and our son loves his new Christmas present. Pretty impressive cooler.
Tammie G.
United States
11/04/2019
great cooler
Took it to the beach and it is a winner. Wife loved it. Separated food and drinks. Wagon bin is great. Only thing to be aware of is it is heavy. Especially when loaded.
kotiw k.
United States