RollR 45
This cool little number is built with the same-patented design and features of the RollR 60 and 80 and is the perfect companion when space is limited. You'll get the same superior cooling and organizational engineering as the bigger guys while keeping your space snatched. See? Big things do come in small packages.

SIZING & CAPACITY GUIDE
Bear resistant rotationally molded body and lid with anchor pins for attaching prep station and accessories.

Up to 8 days of ice retention depending on use.

Capacity: Without Deepfreeze dry bin installed: 60 cans and 10lbs. of ice. With Deepfreeze dry bin installed: 24 cans and 10 pounds of ice in main compartment and 4-6 bottles of spirits upright with meats, breads, fruits and veggies in dry compartments.

High density foam insulation.

High performance wheel assembly: 9-inch all-terrain rubber tires with interchangeable tube, aluminum hubs with 2 sealed bearings *

12.5 mm stainless steel axle *

Telescopic handle

Deep Freeze removable Dry Bin with 2 compartments *

Airtight gasket *

Rubber latches *

Fast Flow drain plug with gasket *

Wagon Bin/removable storage bin *

Rubber non-skid feet *

5 year limited warranty**
* Can be removed, replaced or repaired at home to increase the longevity of your RollR under the most extreme conditions.
** Refer to warranty on site for more info.
Customer Reviews
Write a Review
Ask a Question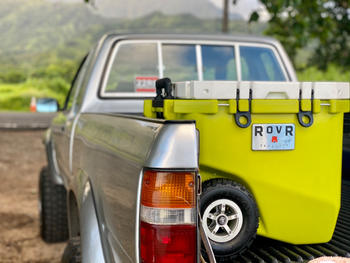 07/12/2020
Kaua'i, Hawai'i
Perfect for Hawai'i, I highly recommend. Another plus is you don't have to strap it down in the back of your truck - the tires help anchor the cooler to the bed liner of the truck and never moves.
Kandis

United States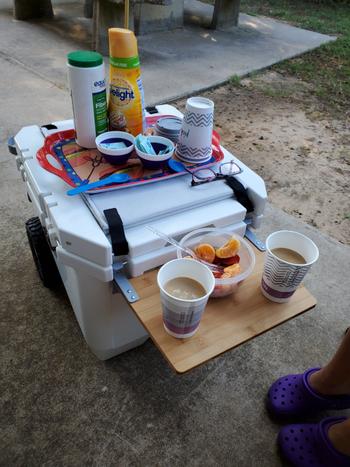 06/10/2020
2nd Time around
Greetings.... I have to say I am very impressed with your product(s). So impressed, this is my 2nd purchase. My first was the RollR 60 back in Oct of 2019. Now the RollR 45 this year....and once again very happy with everything about these products. The creativity in design, durability, functionality of accessories and endurance of keeping things cool / dry for extended periods of time even with frequent openings of either the 45 or 60. I look forward to using either of them any chance I get - also it is great conversation when folks ask me "what is that?" I think I need to be on your marketing team!!! Keep it up RovR Team...you got a great product here as far as I am concerned!
Stephen B.

United States
06/08/2021
Amazing cooler
Love the accessories, a bit heavy for my wife, but she will manage
Jay L.

United States
12/17/2020
So far so good!
Got it for a Christmas present for my SO so I haven't been able to use it yet (it's not Christmas yet) but it looks and feels great! Rolls around well, and feels very sturdy. I am very excited to try out the essentials pack, and I'll update my review!
Kristen M.

United States
09/24/2020
Love this ice chest
This is extremely well-designed. I used it at a backyard party recently and everyone loved it and plans to get one. The wheels are best asset. No other high quality ice chest has wheels like this and that makes all the difference!
Sarah S.

United States