Colorado 85
Roto-molded and assembled in Colorado, our Colorado 85 features an 85-quart carrying, all-terrain attacking, patented design and is ready to roll anywhere. This big daddy has all the organizational and cooling design as the others with extra room for even more stuff. You may never need to go home again.
SIZING & CAPACITY GUIDE
Certified grizzly bear resistant rotationally molded body and lid with anchor pins for attaching prep station and accessories.

Up to 10 days of ice retention depending on use.

Capacity in food and beverage terms: Without Deepfreeze dry bin installed: 120 cans and 20lbs. of ice. With Deepfreeze dry bin installed: 88 cans and 10 pounds of ice in main compartment and over 6 bottles of spirits upright, 10 pound sealed bag of ice, 50 quarter pound burgers, a full slab of ribs, and an assortment of breads, fruits and vegies in dry compartments.

High density foam insulation

High performance wheel assembly: 8-inch all-terrain rubber tires with interchangeable tube, aluminum hubs with 2 sealed bearings *

12.5 mm stainless steel axle *

Aluminum pull handle with dual motocross style grips *

Deep Freeze removable Dry Bin with 3 compartments *

Airtight gasket *

Rubber latches *

Fast Flow drain plug with gasket *

Wagon Bin/removable storage bin *

Rubber non-skid feet *

5 year limited warranty**

For bear proofing - secure with padlock of appropriate size on each corner to ensure minimal play between lid and cooler body
IGBC Certification Number 5238
* Can be removed, replaced or repaired at home to increase the longevity of your RollR under the most extreme conditions.
** Refer to warranty on site for more info.
Customer Reviews
Write a Review
Ask a Question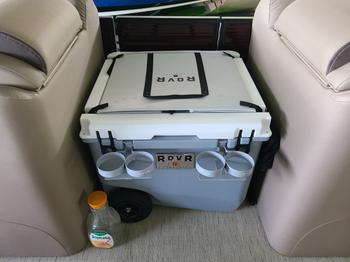 08/11/2021
Good Cooler
The shopping experience was a little frustrating. RovR's products are on many sites for sale. Sites I had coupons for, cash back, free shipping, etc. After ordering the 85 from two other sites, my orders were eventually cancelled. I learned the 85 is apparently built to order. OK, fine. This did cost me a few days waiting for large refunds to my credit card. On to the cooler itself. I had a what apparently is a unique problem. Thhis purchase is primarily for a pontoon boat. I have a 27" wide space for a cooler. 99.999% of coolers are long and low. There simply were no coolers that would fit in my space. I had been using an Igloo 70qt MaxCold. I had to purchase a new one about every other year. The handle or a wheel would break. I also ate through 2 bags of ice per day minimum. Marina ice is not cheap. I don't always have my wallet.....and the excuses (justification) go on. I emailed before ordering online. No wagon included, but may be back in stock in a month or so. I could buy the 80qt wagon. So I order both. The cooler arrived with the wagon attached. So did the wagon I ordered. Now I have two wagons I guess. I open my new cooler and the dry storage bin was not in it. RovR sent me one. Not a big deal, but we are talking about a $600 purchase after a few accessories and shipping. **** of a lot of money for a cooler. On to the cooler itself. It is very big and heavy. It moves on the wheels with ease no matter how loaded it is. Towing it behind a gold cart from our place to the marina was simple. Walking it to the slip, simple (I do wish they had rubber in the center of the handle). Lifting it over the gate/fence on the pontoon, not so much. It's too wide to roll through. I knew this going in. I expected in and out of the truck/boat would be a chore. Performance. I knew going in I would never get anywhere near 8-10 days of ice retention. We drink a lot of beer! You can have the best freezer/cooler in the world. None of them are going to cool with the door/lid opening and closing all day long. Temps in the mid 80s with high humidity. I pack the cooler early Friday morning. Load it in my SUV and wait for my wife to get off work, so it sat in the back of my SUV for a couple hours. 3 hour drive to the lake. Boated for a few hours into Friday evening and all day Saturday. By Sunday morning, I had to purchase two 10lbs bags of ice. Half of what I would do with a $35 Igloo. That's going to be a loooong RTI.
Tim V.

United States
08/11/2020
Dinkey Creek 2020
Loved it. Used the cutting board after cooking up about 12 New York steaks
Samuel A.

United States
08/27/2021
The Colorado 85 handles it all
I can't say enough, we went up north for a dragon boat race and this Colorado 85 did it all. We had food and snacks for the trip. Not a worry in sight. Cant wait to use it again. Next race is in October. Not soon enough. The Rovr handles it all.
Tammy S.

United States
07/31/2021
Diamond or rough??
Who knew that a ROVR would extract the same emotions as an engagement ring! My husband was looking for a cooler, knew he cares about where it came from and the story behind a company. Instead of Yeti and RTic, I took a chance on ROVR. Upon receipt, he put his hands over his eyes .. I had no idea if that was a yes or a no.. It was a YES! Thank you ROVR for creating the perfect gift.
Heathie

United States
07/12/2021
Picnic Success
Plenty of room for EVERYTHING & STAYS COLD! Great to have the separate dry section inside the cooler. Very easy to roll and transport.
R C.

United States