SIZING & CAPACITY GUIDE
Certified grizzly bear resistant rotationally molded body and lid with anchor pins for attaching prep station and accessories.

Up to 10 days of ice retention depending on use.

Capacity in food and beverage terms: Without Deepfreeze dry bin installed: 120 cans and 20lbs. of ice. With Deepfreeze dry bin installed: 88 cans and 10 pounds of ice in main compartment and over 6 bottles of spirits upright, 10 pound sealed bag of ice, 50 quarter pound burgers, a full slab of ribs, and an assortment of breads, fruits and vegies in dry compartments.

High density foam insulation

High performance wheel assembly: 9-inch all-terrain rubber tires with interchangeable tube, aluminum hubs with 2 sealed bearings *

12.5 mm stainless steel axle *

Aluminum pull handle with dual motocross style grips *

Deep Freeze removable Dry Bin with 3 compartments *

Airtight gasket *

Rubber latches *

Fast Flow drain plug with gasket *

Wagon Bin/removable storage bin *

Rubber non-skid feet *

5 year limited warranty**
* Can be removed, replaced or repaired at home to increase the longevity of your RollR under the most extreme conditions.
** Refer to warranty on site for more info.
Customer Reviews
Write a Review
Ask a Question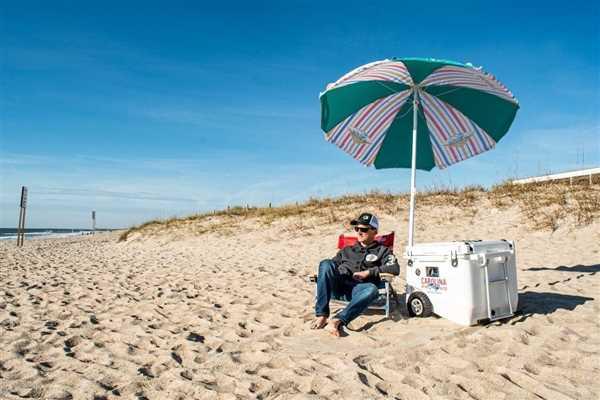 03/17/2020
Perfect for the beach - like a Dune Buggy!!
After having the RollR 45 for the past year we upgraded to the RollR 80 - so we have both!. This rolls through the sand with ease. The large handle and tube wheels cruise through even deep sand so we now have an 80Q bad-*** cooler for a family and friends beach day. The umbrella accessory is a must. It allows the post to bury in the sand and the cooler weight more than secure the umbrella... even in the wind. The other reviews and feature speak for themselves. But combine the easy of rolling through the sand, large stable handle and the attached storage bin that's plenty big enough to carry a few chairs and towels and this RollR cooler is all you need for an awesome day (of supplies and beverages) at the beach! Get one!
Rob
United States
05/13/2020
Amazing
Tons of room and kept everything cold for days.
Jim H.
United States
07/01/2019
Awesome
So far I'm very happy with my cooler
Juan M.
United States
06/30/2019
Nice
Overall, first time use was a good experience. Held everything nicely and kept items cold pretty good. Only concern is I tipped it in its side and melted water did come out of the lid as it was closed. My other high brand cooler doesn't do that. With that said I am very happy with this purchase and the overall ease this Rovr will provide will out weigh the lid issue. Thank you!
Tim G.
United States
06/26/2019
Best cooler ever!
We absolutely love our RovR cooler. All of the great features make it notches above the rest!
Ricky K.
United States