KeepR
The KeepR is not only a great cocktail caddy or mobile bar, it's the modern-day version of a picnic basket. There is no limit to how you can organize your goodies for that fun outing. Cups, utensils, plates, fruit and even cheese and crackers find a nice home, safe in separate compartments that are easily accessible. The KeepR carries like a pail and rests flat on surface, so that it can be the center of attention and always open for service.
Customer Reviews
Write a Review
Ask a Question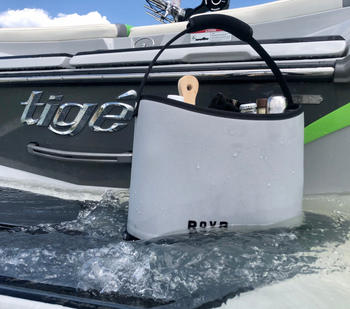 07/29/2020
Perfect mobile bar and picnic caddy
This is an awesome mobile bar and outdoor picnic caddy for so many situations. I take it out on our boat all the time and took it to Utah for a 3 day camping trip in the high desert. I was able to make cocktails for everyone by the fire and it even fell off my chair upside down into the dirt and none of the bottles or fixins fell out. It is alos easy to rinse out with water and keep clean! Thanks for paying attention to folks who love making cocktails with fresh ice in the outdoors!
Tom D.
United States
08/06/2020
KeepR is a keeper
I love it and haven't even taken it on a venture yet, just a classy piece back and forth to the backyard. Can't wait to travel with it.
Lisa K.
United States
07/30/2020
Party in a tote!
Love the KeepR! We have it ready to go for any occasion! Fun and smart design!
Danelle W.
United States
07/29/2020
Love my KeepR
Got my KeepR just before a trip to the wine country and so glad I did! It was just awesome. The ice bucket keeps ice frozen a long time, love the adjustable compartments, and so easy to tote anywhere. We loaded ours up with drinks, cheese, meats, crackers, and a bunch of other things. Thanks RovR for another great product to go along with my cooler!
Steve A.
United States
07/22/2020
Super Functional / Disappointing plastic top to Ice Bucket
We just received our KEEPR and are very happy with the overall quality of the caddy. This is the perfect companion to keep you hydrated at any picnic, fire pit or when you're socail distancing with some friends ;) Our only disappointment is the plastic handle to the ice bucket. It feels brittle and looks like glitzy fake metal. It looks out of place next to all the other high-quality finishes on the KEEPR.
MW
Matt W.
United States